Leyte—On March 28, 2019, fifty-six (56) sari-sari storeowners participated in games and activities that teach risk-managing financial services and business resilience. This is part of the Microinsurance MBA Association of the Philippines (MiMAP, also known as RIMANSI) conduct of the Microinsurance Roadshow: Palarong Sari-Sari Sure in Abuyog, Leyte. The roadshow is part of the PREMIUM project which is supported by the Government of Canada and Co-operative Development Foundation of Canada (CDF), and co-implemented with CARD, Inc. and Hapinoy.
The conduct of the roadshow started with a question-and-answer segment. In this portion, sari-sari storeowners were educated about their economic roles in their respective communities. It was emphasized how many Filipinos relied on the goods and products that they sell in preparation for rain and typhoons. This was then followed by a picture-based game segment that asked participants to identify predictable and unpredictable risks. Focus was placed on how unprecedented risks (such as typhoons, fire or the death of a breadwinner) can affect the livelihoods and finances of storeowners.
Risk managing financial services such as savings, loans and microinsurance were then introduced through another question-and-answer game. Participants formed teams to answer questions relating to the financial services. Savings, loans and microinsurance were introduced as financial instruments that can benefit microenterprises especially when utilized as a package.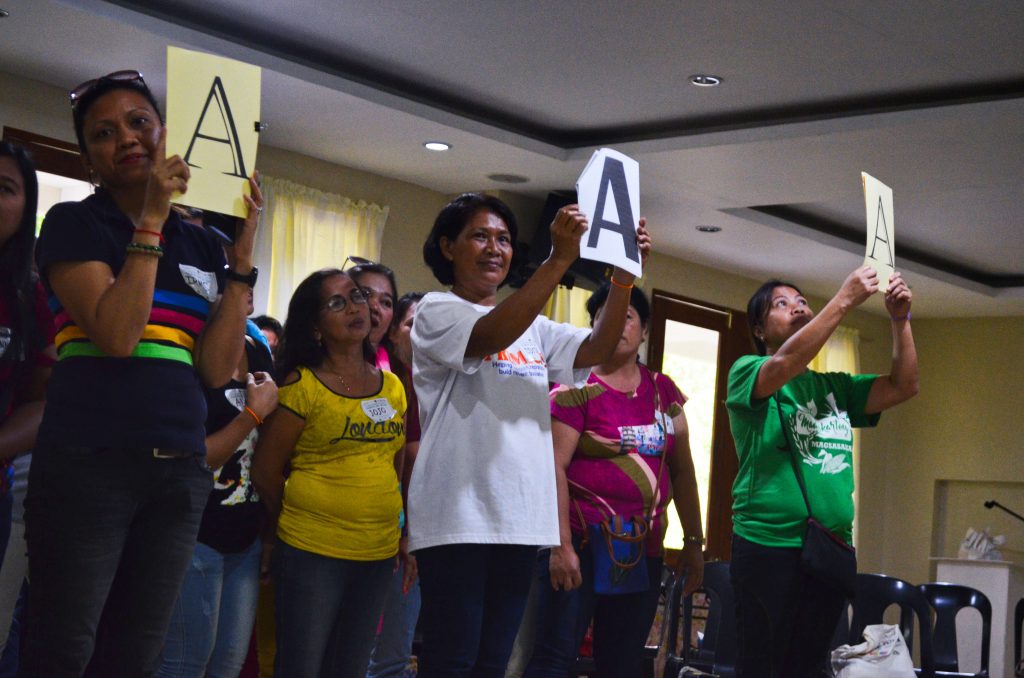 Sagip Negosyo, a non-life calamity microinsurance product tailored for sari-sari stores, was also introduced to participants by Glaiza Kierulf from CARD MRI. Kierulf oriented sari-sari storeowners of the policy detailing the benefits that a policyholder can receive in the event of flood, typhoon and fires. This product was also being offered during the event. To end the roadshow, storeowners were again grouped to synthesize the lessons. The groups were tasked to create a business continuity plan that would strengthen the resilience of their sari-sari stores. They were asked to identify potential risks to their stores and how the financial tools available can act as a response to these threats.
The roadshow falls under the month of March which falls under National Women's Month, International Women's Day and Fire Prevention Month. Training and Communications Officer Allelie Ruth Mojica emphasized that the roadshow is a way to provide an interactive and unique avenue for learning. She said referring to the roadshow, "Hindi usual na paraan na pagturo ng konsepto ng mga risk-managing financial services, lalo na yung Sagip Negosyo. Para din maipakita sa kanila yung kanilang halaga sa community."