Eastern Visayas—Insurance, Savings and Loan Advocates (ISLAs) from Samar and Leyte had their respective share-out meetings on December 01–09 & 11, 2018 (Samar) and April 23–May 03 & June 02, 2019 (Leyte) after the first cycle of operations. All the money pooled by the members (including the gains from loan interests and penalties) from the start of operations are returned accordingly to each member during the share-out. The Microinsurance MBA Association of the Philippines (MiMAP, also known as RIMANSI) helped by facilitating the share-out.
Specifically, the table below shows the accomplishment of ISLAs in the two provinces:
| | | |
| --- | --- | --- |
| | SAMAR (end of 1st cycle, June-December 2018) | LEYTE (end of 1st cycle, November-June 2019) |
| Number of ISLAs and ISLA Facilitators | 19 (100% women) | 20 (90% women) |
| Number of Members | 550 (79% women) | 550 (79% women) |
| Total value of shares bought (savings) | Php 1,448,950.00 | Php 2,172,988.00 |
| Total amount of money released during share out | Php 1,598,969.58 | Php 2,259,238.00 |
| Single Share Value per member (min-max) | Php 53-58 | Php 53-58 |
| Return of investment | 6-16% | 6-16% |
| Microinsurance products sold | 335 | 247 |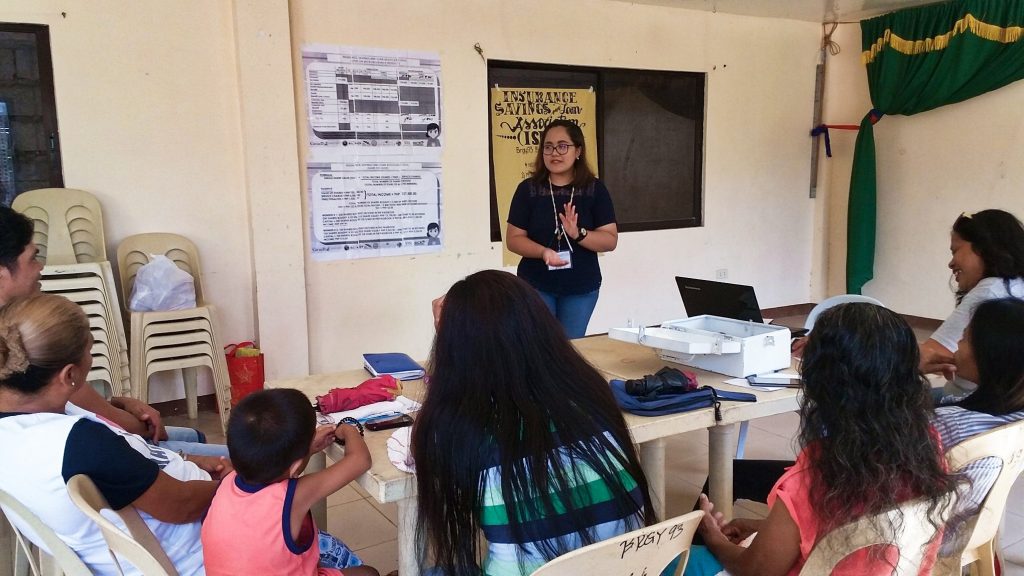 ISLA is a group of at most 50 community members organized by enterprising and well-networked sari-sari storeowners that meets regularly to create a savings pool from which loans and microinsurance can be funded. The operations of an ISLA run for at least six months per cycle and the end of each cycle is signified by the share-out sessions. In addition to disbursement of pooled money to each member, microinsurance products are reintroduced and reinforced to members during share-out meetings since it is an opportune time for them to purchase insurance. It is worth noting that 582 ISLA members availed microinsurance products such as Sagip Negosyo (a store insurance product developed to insure storeowners against typhoon, flood, fire and personal accident), Protektahanan (non-life insurance product to protect residential house against fire), and Dakila Plan (life microinsurance product with individual, family and senior variants that covers death benefit (any cause) and personal accident benefit).
Personnel from MiMAP, CARD Pioneer Microinsurance Inc. (CPMI – first microinsurance company in the Philippines) and RIMANSI Mutual Solutions Insurance Agency Inc (RMSI – insurance company that complements the microinsurance products of Mi-MBAs) primarily helped in facilitating the enrollment of microinsurance products availed by ISLA members. Finally, constitution and by-laws of each ISLA group are drafted in preparation for the next cycle of operations.