By the Microinsurance MBA Association of the Philippines, Inc. (MiMAP)
Since March 2020 when the Philippines was placed on lockdown associated with the COVID-19 pandemic, food-based microentrepreneurs have been hard at work as frontliners, without much fanfare or support, to provide Filipino communities with access to food and other essential household supplies. Celia was one of these microentrepreneurs who woke up at dawn, opened her store daily to be of service to her community in Caloocan. But while the sales for her business increased, she was also weakened by the long hours of work and constant interaction with buyers. She got sick back in May from COVID-like symptoms and died at 55 years of age. Celia, a member of a Microinsurance Mutual Benefit Association (Mi-MBA), had microinsurance. When informed of her passing, the Mi-MBA staff promptly processed her insurance claim. Despite operational challenges during the lockdown, the Mi-MBA was able to settle Celia's family's claim within a week.
Celia's case is one of 428 other COVID-related deaths among members and beneficiaries that was promptly settled from 16 March- 15 July 2020 by Mi-MBAs connected with the Microinsurance MBA Association of the Philippines Inc. (MiMAP). These claims under MiMAP account for 2% of the total 20,540 microinsurance claims involving PhP 462.81 million that Mi-MBAs settled and paid for within the 4-month lockdown period.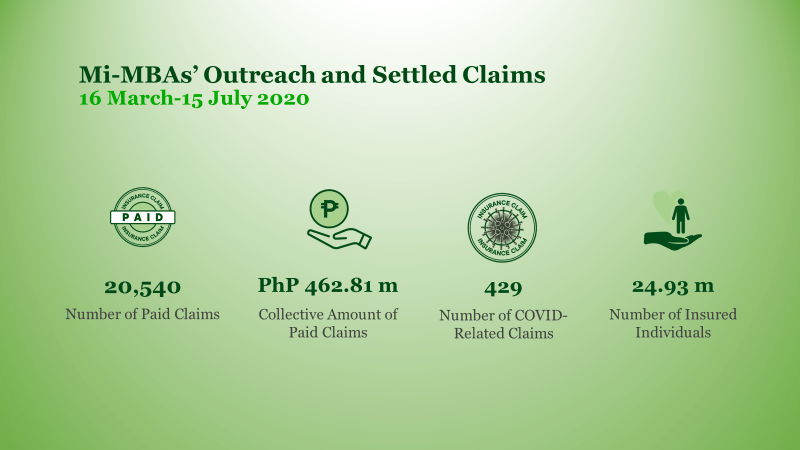 Microinsurance Just Around the Corner
MiMAP, also known as RIMANSI, is composed of 18 Mi-MBAs and institutional partners spread all over the country. This network is united by a shared vision to bring microinsurance access and benefits to 48 million poor and low-income Filipinos by 2024. MiMAP has a collective outreach of 7 million individual members majority of whom are microentrepreneurs, small farmers and fishermen. As microinsurance coverage is likewise extended to members' families, insurance coverage is given to nearly 25 million Filipinos. MiMAP Mi-MBA members account for a substantial 62% share in the country's total microinsurance coverage of 40 million individuals in 2019.
The Mi-MBAs provide basic life microinsurance plans and a range of optional life plans that include coverage for health and retirement. For example, one Mi-MBA extends a microinsurance coverage of Fifty Thousand Pesos (PhP 50,000) for basic life insurance for only Sixty Pesos (PhP60) a month. More than having access to an affordable and good set of risk-protection products, the MBA is structured to be owned and governed by its members drawing on the power of mutual care and support.
During the first month of the lockdown, Mi-MBAs extended the grace period of 45 days to add 30 more days on premium collections while managing to sustain the processing and settlement of microinsurance claims. This move has helped ease the financial burden of members and their families.
MiMAP has successfully lobbied with the Insurance Commission (IC) for MBA operations to be categorized as a frontline essential health service. This has paved the way for mobilization of staff to validate claims and to arrange for money transfer of approved claims. To further support members, MiMAP has also filed a proposal to allow Mi-MBAs to draw on the accumulated refundable equity value of members for premium payment when the prescribed grace period expires. If this proposal gets the nod of IC, members will be given more time to generate income and save up for the next premium payment.
Microinsurance At Your Fingertips
With a growing membership base, Mi-MBAs have turned to technology to increase efficiency. This enabled Mi-MBAs to settle claims and release the insurance benefits within a day. The submission of claim documents has been made easy through electronic copies shared via email or other mobile phone applications such as FB messenger. MBA staff resorted to teaching members or their beneficiaries on use of phone camera or relevant software applications to ensure the timely submission of documents. A strong culture of mutual support keeps Mi-MBA staff flexible and committed to deliver responsible and efficient services.
Amidst the challenges brought about by the Covid-19 pandemic to the operations of the Mi-MBAs, Citi Foundation continues to support the growth of the microinsurance industry through a grant partnership with MiMAP (RIMANSI). The program aims to build capacities of Mi-MBAs by developing innovative mobile technology solutions and a member-education strategy that will help them adapt with the new normal conditions. Citi Foundation works to promote economic progress and improve the lives of people in low-income communities around the world.
In 2019, MiMAP Mi-MBAs mobilized a total of PhP 4.81 billion in contributions and premiums, paid PhP 1.43 billion in claims benefits, and reserved Php 956.10 million in refundable equity value to members. Also positioned as a regional microinsurance resource center through RIMANSI, MiMAP has provided technical support to promote, build and strengthen microinsurance in Cambodia, Fiji, Indonesia and Vietnam involving eight (8) microfinance institution partners. These efforts have helped establish the Philippines the reputation of being the microinsurance capital of the world.
About MiMAP (RIMANSI):
The Microinsurance MBA Association of the Philippines Inc. (MiMAP) or RIMANSI helps professionalize the management of microinsurance mutual benefit associations (Mi-MBAs) and microinsurance programs to provide affordable, comprehensive, and quality risk protection to millions of poor people in Asia and the Pacific. Towards this purpose, MiMAP assists Mi-MBAs in developing risk management solutions, building capacities, advocating for appropriate policy environment and pursuing research & development agenda.
About Citi Foundation:
The Citi Foundation works to promote economic progress and improve the lives of people in low-income communities around the world. We invest in efforts that increase financial inclusion, catalyze job opportunities for youth, and reimagine approaches to building economically vibrant cities. The Citi Foundation's "More than Philanthropy" approach leverages the enormous expertise of Citi and its people to fulfill our mission and drive thought leadership and innovation.