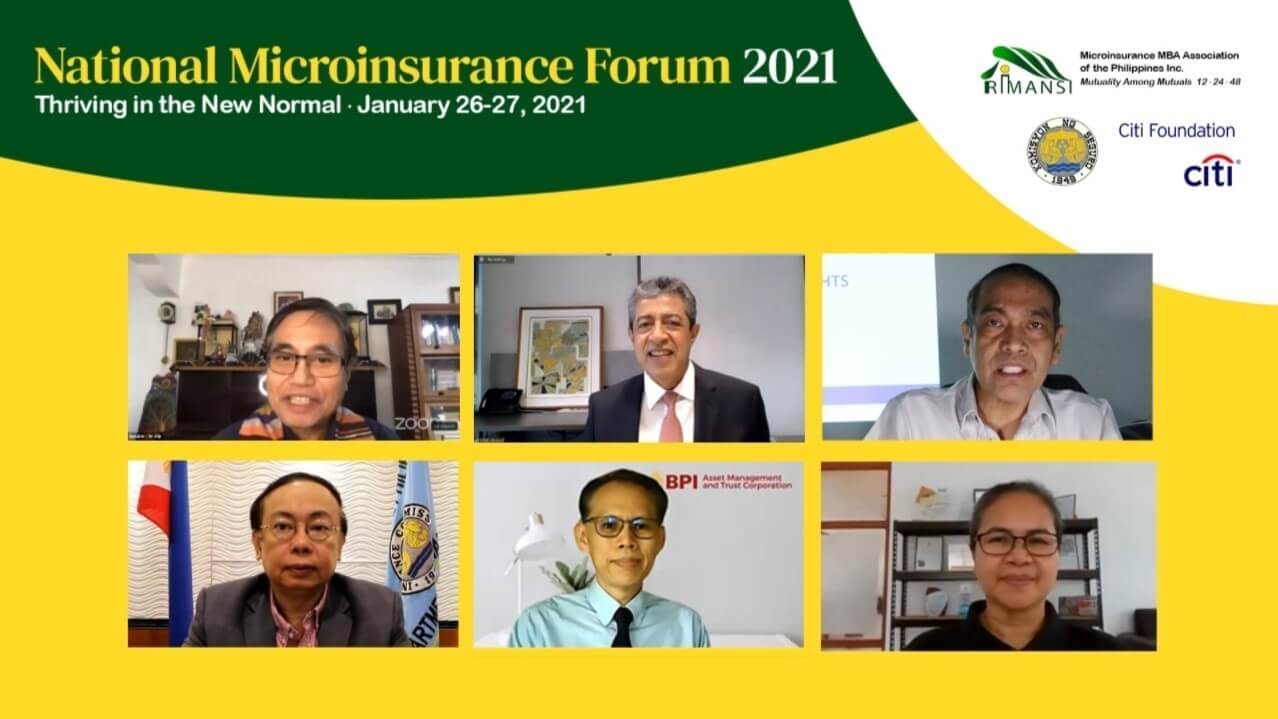 More than 20 million Filipinos are enjoying the benefits of mutual microinsurance, providing protection to individuals with low incomes especially through these challenging times.  
Insurance Commissioner Atty. Dennis Funa credits microinsurance mutual benefit associations (Mi-MBA) in successfully bringing microinsurance to 26.66 million individuals reaching 69% of the country's total insurance outreach, "MBAs have been very effective in providing assistance to millions of beneficiaries in times of crisis." said Atty. Funa.
Over 400 microinsurance stakeholders joined the National Microinsurance Forum hosted by the Microinsurance MBA Association of the Philippines Inc. (MiMAP, also known as RIMANSI) via Zoom and Facebook Live. With the theme 'Thriving in the New Normal,' the forum featured various responses of the local microinsurance sector to provide sustained, timely and appropriate delivery of much needed microinsurance services and support to low-income Filipinos, amid the COVID-19 pandemic and other natural calamities in 2020. Last year, MiMAP members collectively settled 66,847 claims amounting to PhP1.62 billion.
Citi Foundation and Citi Philippines are key partners and supporters of mutual microinsurers in the country. Citi Philippines CEO Aftab Ahmed called on participants to adopt an optimistic and proactive outlook in 2021 and beyond.
"You should not be discouraged as we will return to normal. Therefore, it is essential that you stay the course and find a way for your business to survive and grow. You have made sizeable investments in your respective businesses, in terms of time, effort and money, and you should believe in your ability to turn things around," said Ahmed.
Mi-MBAs were quick to explore and adapt to available technologies. Simple, affordable and appropriate technology-driven systems and procedures were promptly developed and used to communicate and operate—from marketing to enrollment of new policy holders, renewal of policies, to settlement of claims and other member concerns. These efforts have resulted to increased member satisfaction and enhanced perception of microinsurance as an essential social protection product for low-income Filipinos.
Speakers at the forum also discussed the opportunities and challenges facing the sector, such as the need to extend microinsurance to vulnerable groups, explore more creative community-based risk-sharing strategies, offer new products to dispel the 'uninsurability' mindset and tap the full benefits of digital technology to better serve existing and new markets. At the end of the event, MiMAP reiterated its commitment to continue to do its best to ensure that the microinsurance sector provides a sturdier and wider safety net to more Filipinos.
###
About MiMAP (RIMANSI):
The Microinsurance MBA Association of the Philippines Inc. (MiMAP) or RIMANSI helps professionalize the management of microinsurance mutual benefit associations (Mi-MBAs) and microinsurance programs to provide affordable, comprehensive, and quality risk protection to millions of poor people in Asia and the Pacific. Towards this purpose, MiMAP assists Mi-MBAs in developing risk management solutions, building capacities, advocating for appropriate policy environment and pursuing research & development agenda.
About Citi Foundation:
The Citi Foundation works to promote economic progress and improve the lives of people in low-income communities around the world. We invest in efforts that increase financial inclusion, catalyze job opportunities for youth, and reimagine approaches to building economically vibrant cities. The Citi Foundation's "More than Philanthropy" approach leverages the enormous expertise of Citi and its people to fulfill our mission and drive thought leadership and innovation.
About Citi
Citi, the leading global bank, has approximately 200 million customer accounts and does business in more than 160 countries and jurisdictions. Citi provides consumers, corporations, governments and institutions with a broad range of financial products and services, including consumer banking and credit, corporate and investment banking, securities brokerage, transaction services, and wealth management.
Additional information may be found at www.citigroup.com | Twitter: @Citi | YouTube: www.youtube.com/citi | Blog: http://blog.citigroup.com | Facebook: www.facebook.com/citi | LinkedIn: www.linkedin.com/company/citi